Archaeological research traces 1000 years of copper production in Congo-Brazzaville
Present-day copper mining in Central Africa is a hot topic, but little is known about the history of copper production in the last millennium. In the far south of Congo-Brazzaville, archaeologist Nicolas Nikis has discovered that extraction and production of this red gold began at least a thousand years ago.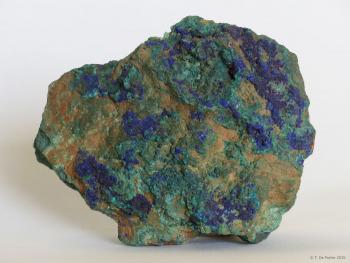 As early as the 10th century
For his PhD thesis, Nicolas Nikis decided to focus on copper production in the Niari basin, near the border with the DRC.
'Historical sources make mention of copper extraction in the 16th century, but excavations have shown us that the metal has been extracted since at least the 10th century in some areas,' explained Nicolas.
Local groups and commercial use
Learning about copper production also teaches us more about how people lived in the area over time. Nicolas identified different types of copper production that came one after the other in the last millennium, with each belonging to a specific time period. Different groups of artisans were also involved in this production, and their presence reflects distinct socio-economic contexts.
Between the 13th and 15th centuries, for instance, locals were active in the mines. Copper was an important element in the economies of these societies, which produced copper rods that they used as currency. Meanwhile, from the 15th to the 17th century, outside groups apparently settled temporarily in the region to mine copper for trade.
Archaeological and interdisciplinary fieldwork
Nicolas carried out several excavations for this research. 'One of the most impressive discoveries I made in the field,' he recounted, 'was of an intact furnace that gave us a more direct view of copper production techniques than residues ever could.'
Nicolas also discovered copper objects and compared them with the RMCA's reference collections: 'New knowledge made it possible to improve the dating and contextualization of copper objects collected during excavations in the 1950s.
The collaboration with RMCA archaeologists has been fruitful for my research. I also benefited from interdisciplinary collaborations, for instance with Thierry De Putter, a geologist at the RMCA, to arrive at a better understanding of the copper manufacturing process.'
Copper mines and political power
His work has also identified new avenues for investigation: was there a link between the copper mines and the political powers in the region? Future research will attempt to determine if the control of trade networks played a more important role than direct control of the mines.